We're trying something new, here, folks.
When I had been only tangently following World Youth Day and the pope's activities there, I had heard a beautiful piece that I wanted to identify. I was unable to do so. I asked some people, but they weren't able to name it, and some that I asked via e-mail never responded. It was used in the WYD Stations of the Cross, the last station.
The video is beautiful, and the music perfect. WYD Video of Station 13.
Well, folks, I finally found it. But, it was completely by providence. I usually don't listen to music in the car, unless I'm on an hours-long trip, in which case I bring CDs along and listen to those. Recently, however, I had for some reason tuned into National Public Radio. They play some good classical music, and I think some of you may remember my fascination with music and the power of the human voice. As I was listening, the female disc-jockey's voice came on and announced the next two songs which would close out the radio hour. I didn't listen much to what she was saying, but as soon as she stopped and the next song began, I about hit the roof! I was so surprised and shocked to find that it was the song I was looking for. I burst out laughing because I realized the "coincidence" of it all.
Soon, though, I realized I wasn't any better off. Why? Because I hadn't listened to the woman announce the songs! I didn't know what song it was, and so I was still just as out of luck as before! The song finished, and it continued right into the next song. Finally, about six minutes later the DJ came back on and announced,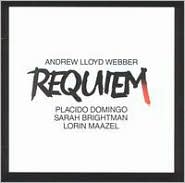 "Well, folks, thanks for listening in today. You just heard [whatever the song was and by whom] and just before it you heard Andrew Lloyd Webber's Pie Jesu from his Requiem." You can imagine my pleasure at hearing the title. Well, I went and bought it and have been enjoying it.
And here's the new part. For any of you who may desire to preview it, you can listen to the version performed by Sarah Brightman and contained on her album, The Andrew Lloyd Webber Collection in the embedded player below. I think this may be the very recording used during the Stations at WYD, but cannot be sure. Once again, the human voice is so powerful. A clear, stable voice can pierce through the air straight to the heart and move it, as does this song, to plead and cry out for God's mercy.
Pie Jesu,
O holy Jesus,
qui tollis peccata mundi
who take away the sins of the world,
dona eis requiem.
grant them rest.


Agnus Dei,
Lamb of God,
qui tollis peccata mundi,
who take away the sins of the world,
dona eis requiem.
grant them rest.


Sempiternam requiem.
Everlasting rest.